Universal Servo Testing Machine - Bizana
Tuesday, 18 April 2017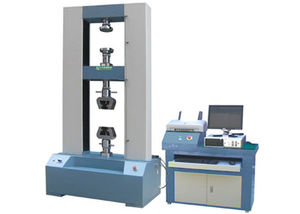 Item details
City:
Bizana, Eastern Cape
Contacts

George bill

+27739511415 or whatsapp +27839520717
Item description
Product Description
This product is a kind of hydraulic universal materials machine. In addition to basic functions, It equipped with computers for data analysis to collect data and analyze. So, the test results can be printed by graphic, or printer. It helps to ease the management of test data and various accessory devices make it more convenient to operate. In other words, this is a high-precision universal testing machine.
By adopting of computer system, it is easy to manage test data.
By using of high-precision load detector, you can get high accuracy data, and high durability is guaranteed.
This machine has a hydraulic chuck with an open front. Also, it is easy to operate through remote control switches.
Windows version is the testing program that includes other various testing programs. It can be converted freely by the user.
By adopting of one-touch valve, it is easy to operate.
Base and cross-head are solid loading device so that durability is excellent.
The structure of this machine is divided into two parts ; loading unit and control unit. Loading unit means hydraulic loading unit and the mechanical structure. Control unit is that the hydraulic control unit and the computer that collect and analysis data. Loading unit is the actual moving parts, it fix specimens and stretch or compress specimens. Control unit output the value with a D / A converter, and hydraulic control unit operate the test. Computer gathers location or load, and analysis that. Then, graphics and print it out.